ACTINIC KERATOSIS
KX2-391 Ointment 1%, a Novel Dual Sarcome/Tubulin Inhibitor, is Efficacious and Safe in the Treatment of Adults with Actinic Keratosis in Two Phase 3 Studies
Presented by: Edward Lain, MD, FAAD
Austin Institute for Clinical Research Inc., Pflugerville, TX, USA

Key Messages/Clinical Perspectives
KX2-391 ointment 1% was proven safe and effective for the treatment of adult patients with AK.
Nearly half (44% and 54% respectively) experience 100% AK clearance with greater improvement measured for the facial area.
Safety outcomes indicated that most TEAEs were mild-to-moderate and required no treatment.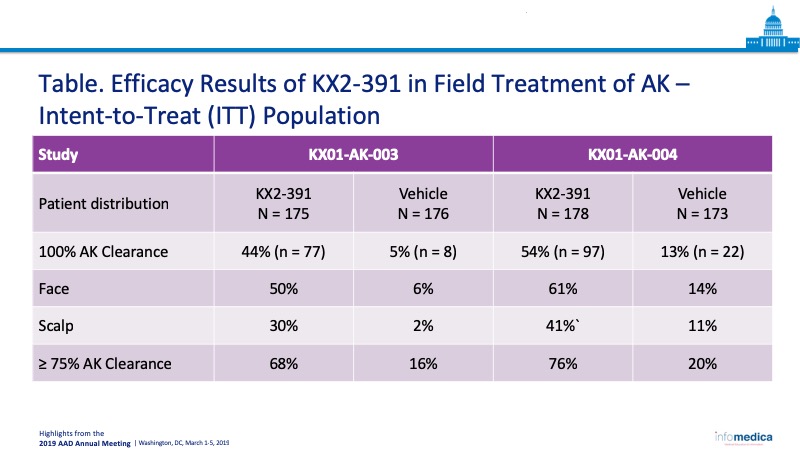 Presenter disclosure(s): The presenter has reported that he is an investigator for this clinical trial, and that the study is sponsored by Athenex, Inc. The content of the presentation had not been publicly disclosed as of the AAD 2019 presentation, and was provided for research purposes only. Almirall and Athenex are partners in the development program of KX2-391 ointment 1% for actinic keratosis.
Written by: Daniel Bennett, MPH
Reviewed by: Martina Lambertini, MD