AESTHETIC DERMATOLOGY
The Science of Botulinum Toxin Type A: Innovations in Beauty, Health, and Well-being
Presented by: Mark S. Nestor, MD, PhD, FAAD
Voluntary Professor, Department of Dermatology and Cutaneous Surgery,
Department of Surgery, Division of Plastic Surgery,
University of Miami Miller School of Medicine, Miami, FL, USA

Key Messages/Clinical Perspectives
Advances in botulinum toxin A treatments can improve patient outcomes for this widely used cosmetic dermatology procedure.
Clinicians can apply scientific knowledge to compare available options and improve clinical techniques to optimize onset, efficacy, and duration metrics.
Patient outcomes including effects on mood and interpersonal interactions should be considered in selecting among the glabella, crow's feet, and or other injection sites.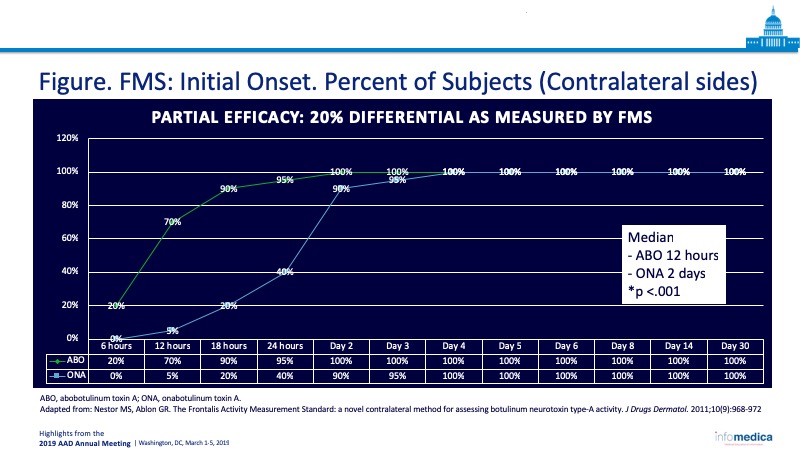 REFERENCES
Presenter disclosure(s): The presenter has reported relationships with the following companies: Aclaris Therapeutics Inc. Actavis Aerolase Allergan, Inc. Almirall Bayer HealthCare Bioderma Biofrontera AG BirchBioMed Brickell Biotech, Inc. Castle Biosciences, Inc. Celgene Corporation Clarisonic Croma-Pharma GmbH Austria Demira DUSA Pharmaceuticals, Inc. Encore Dermatology, Inc. Essence Novel Evolus, Inc. Exeltis Ferndale Laboratories, Inc. Gage Development Company, LLC IntraDerm Pharmaceuticals ISDIN Johnson & Johnson Pharmaceutical Leo Pharma Inc. MC2 Therapeutics Sensus Healthcare Sinclair Pharma SiSaf, Ltd. Sonoma Pharmaceuticals Stratapharma Strathspey Crown Therapeutics Inc. ThermiAesthetics Vanda Pharmaceuticals Inc.
Written by: Daniel Bennett, MPH
Reviewed by: Martina Lambertini, MD